2016 School of Education Newsletter
Featured Articles
---
Alumni Speak at State and National Math Conferences
Kimberly Kelly (B.S., Liberal Studies, 2004; Multiple Subject Credential, 2005), Jessica Djuric (Multiple Subject Credential, 2011) and Barbara Blanke (M.A., Education, 1985) presented at the California State Math Conference in November. Find out how they've helped parents prepare for the implementation of the California Common Core State Standards in Mathematics.
Letter from the Director
New director Kevin Taylor outlines his plans to strengthen the School of Education by working closely with faculty, staff and external stakeholders. "If you see a way that we can improve our programs, let's work together," Taylor said.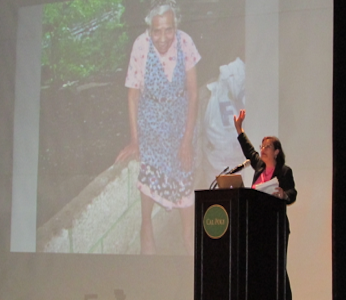 School of Education Hosts Pulitzer Prize-Winning Author
Sonia Nazario, a journalist and activist, retraced the perilous journey that thousands of unaccompanied children take from Honduras to the U.S. to be reunited with their parents. Nazario, who was awarded a Pulitzer Prize, spoke at Cal Poly in November.
---
More News
Multiple Subject Program News
The Multiple Subject Teacher Education Program (MSTEP) has 61 candidates working toward a credential and will likely admit 24 students to the spring cohort. This year, candidates have worked with 95 cooperating teachers in 46 schools across 10 districts in San Luis Obispo and Santa Barbara counties. We are grateful for the support of our partner schools and those who help us secure placements for our teacher candidates.
Read more about the Multiple Subject Program ›
Candidates Gain Experience at Events, Conferences
Annual Film Screening Focuses on Assessment and Project-Based Learning, Author and Candidates Discuss Academic Profiling in Public Schools, Candidates Travel to Bilingual Educators Conference & Multiple Subject Candidates to Visit Museum of Tolerance.
Read more about candidate experiences ›
Stephen Crutchfield Joins Special Education Program
The School of Education warmly welcomes Stephen Crutchfield, a new professor in our Special Education Program. Crutchfield earned his doctorate from the University of Kansas with an emphasis in autism spectrum disorders. Prior to coming to Cal Poly, Crutchfield was an Institution of Education Sciences postdoctoral research fellow at the Juniper Gardens Children's Project in Kansas City, Kan. Crutchfield's research examines the effects of emerging technologies on the social and adapted skills of young children with autism. Specifically, he is investigating methods for providing contextualized prompts to young children with autism through location tracking technology delivered via smartphones.
Read more about Stephen Crutchfield ›
Walk for Autism and Special Education Alumni Gathering April 17
The Cal Poly Special Education Program faculty invites all special education alumni interested in forming a Special Education Alumni Group to meet directly after the Walk for Autism, which begins at 2 p.m. on Sunday, April 17.
Thank You to Our Generous Donors
Private support from our alumni, parents, friends, private businesses and agencies help to provide exceptional Learn by Doing projects and opportunities for today's students.
See a complete list of donors ›
School of Education Works with Coalition for Inclusive Schools
The Central Coast Coalition for Inclusive Schools (CCC4IS) is a collaboration between experts at Cal Poly, local non-profits in San Luis Obispo County, and school agencies to support schools in implementing several new laws related to LGBT youth.
Read more on the work with CC4IS ›
Early Assessment Program Provides Workshops, Influences Policy
The Early Assessment Program (EAP) helps students begin college without having to do remedial coursework in English or mathematics.
Read more about the Early Assessment Program ›
Related Content