SOE Calendar of Events
Welcome to the School of Education calendar of events. Here you will find events hosted by the School of Education in addition to events hosted by other campus entities and community members.
Utilize the dropdown menu under "Agenda" to narrow your search for specific types or specific host departments.
If you would like to have an event added to this calendar, please submit a request via email to soe@calpoly.edu with the subject line "Events Calendar Request" and include the following information: event title, date, time, intended audience, description of the event, and flyer/marketing collateral if applicable. 

5th Annual Central Coast Social Justice Education Conference
Saturday, May 21, 2022
Virtual Keynote & Panel: 10:00 a.m. to 12:00 p.m. (PDT)
In-person Curriculum Fair at Cal Poly School of Education: 1:30 p.m. to 2:30 p.m.
Register at https://tinyurl.com/2022-SJEC and receive up-to-date information about the free, hybrid event. The conference will focus on our collective work to name and challenge forms of oppression by bringing together local educators and activists committed to racial justice. 
Our virtual keynote speaker is Dr. Noreen Naseem Rodríguez—Assistant Professor at the University of Colorado Boulder. Dr. Rodríguez's research engages critical race frameworks to explore the pedagogical practices of teachers of color and the teaching of so-called difficult histories through children's literature and primary sources. She is co-author of Social Studies for a Better World: An Anti-Oppressive Approach for Elementary Educators with Katy Swalwell. Before becoming a teacher educator, Noreen was a bilingual elementary teacher in Austin, Texas for nine years.
The virtual component of the conference will also include a panel of K-12 educators and community activists from California's Central Coast.
The in-person curriculum fair takes place at Cal Poly School of Education. Future and current educators will present original curriculum and engage in thoughtful discussion on issues related to social justice education.
This free event is organized and sponsored by: Central Coast Coalition for Undocumented Student Success and Cal Poly School of Education.
More info: https://www.ccc-uss.org/2022-social-justice-education-conference.html
Contact: bronan@calpoly.edu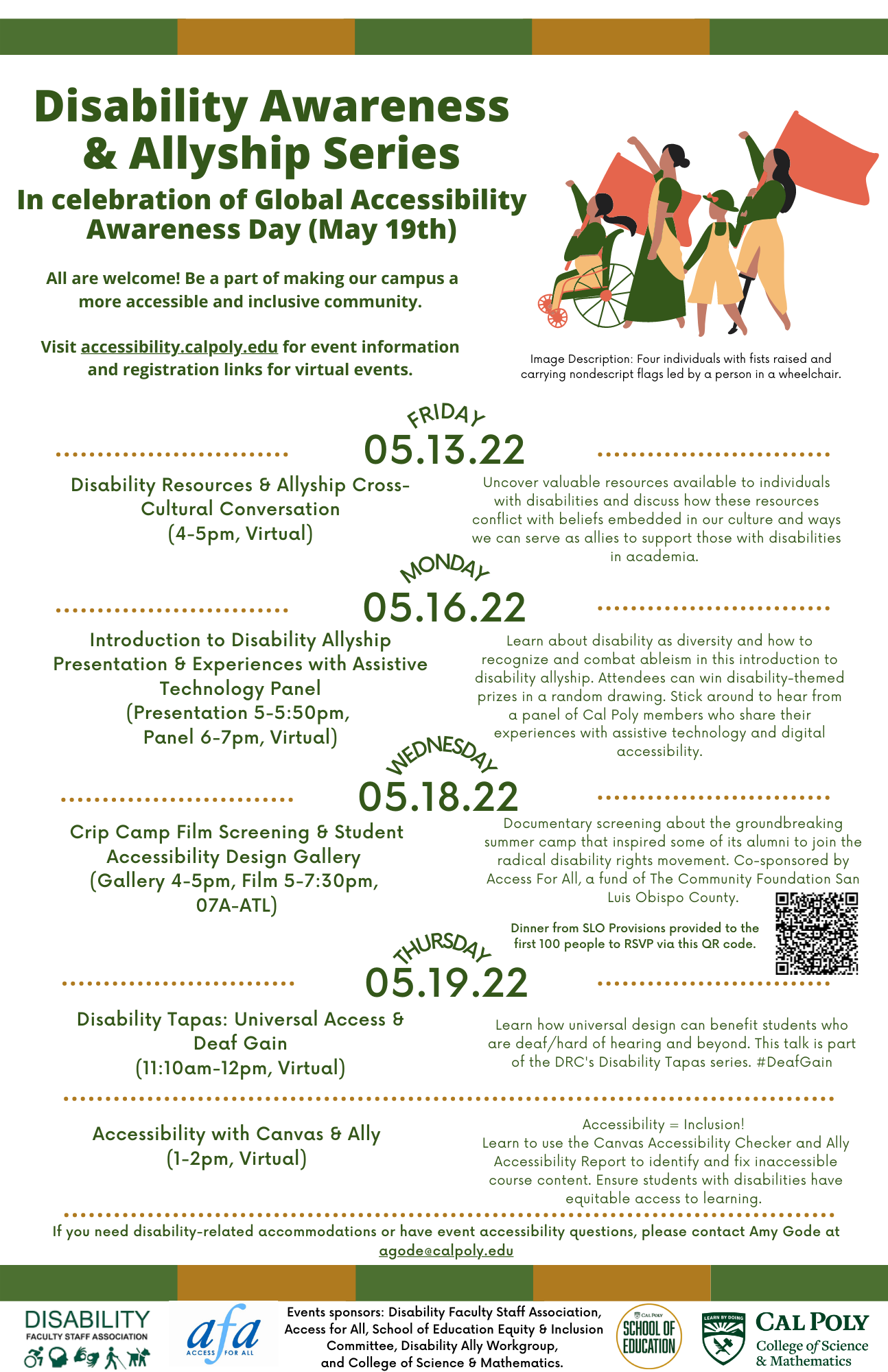 Multiple Subject Program (MSTEP) Info Sessions
Join us to learn more about the application requirements, admissions process, program structure & coursework, and to get your questions answered! Registration is required for the MSTEP Info Sessions via the links below. 
Spring Quarter 2022
Fall Quarter 2022 - TBD
Cal State Apply Q&A Sessions
These sessions are designed for those with in-progress Cal State Apply applications for the upcoming application cycle. This session will not cover general program info but is only offered for current applicants ready to hit submit on their application. 
Winter 2023 Multiple Subject - Application deadline is November 1, 2021
Educational Leadership & Administration (ELAP) Info Session
Please join ELAP faculty members Dr. Somoza-Norton and Dr. Neumann for a special ELAP information session! You'll be able to find out all about ELAP's weekend cohort model, how to balance work and graduate student life, course topics, and more.
Higher Education Counseling & Student Affairs (HECSA) Info Sessions
Find more events sponsored by Cal Poly Student Diversity & Belonging on their Events Calendar.
Keep up-to-update with the Liberal Studies department by visiting their Events Calendar.
COSAM Events Calendar coming soon! Stay tuned!
Related Content