Faculty Bios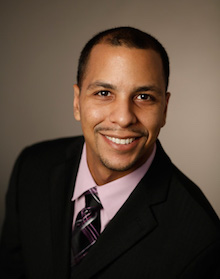 Dr. Daniel Almeida
Dr. Daniel J. Almeida is an Assistant Professor in the School of Education at Cal Poly, San Luis Obispo and Coordinator of the Master's program in Counseling & Guidance in Student Affairs/Higher Education. Dr. Almeida teaches courses on Student Development Theory, Multicultural Counseling, Career Counseling, & Assessment in Higher Education. He received his BA in Psychology from Dartmouth College, MA in Higher Education Administration from Boston College, and PhD in Urban Education Policy – Higher Education concentration at the University of Southern California.
During his professional career Dr. Almeida worked in Student Affairs at Cal Poly, San Luis Obispo as a Coordinator of Student Development, and worked in Career Services at Cal State Long Beach and Loyola Marymount University. Dr. Almeida's research includes issues relating to first-generation college students and using Social Network Analysis to study networks of relationships of faculty, staff, and students on college campuses. He is currently using qualitative methods to examine the intersection of various aspects of social identity and individuals results on the Gallup Strengths Finder.
Dr. Almeida has published articles the Higher Education: Handbook of Theory and Research, Discourse: Studies in the Cultural Politics of Education, and the Journal of Hispanic Higher Education. Dr. Almeida also has two chapters included in the edited book The Problem of College Readiness and a chapter in Qualitative Inquiry in Higher Education Organization and Policy Research in the Core Concepts in Higher Education series.
Dr. Sonia H. Ramrakhiani
Dr. Sonia H. Ramrakhiani is an Assistant Professor in the School of Education at Cal Poly, San Luis Obispo where she teaches Introduction to Educational Inquiry in the Master's Program in Counseling and Guidance in Student Affairs. She received her B.A. in Psychology from St. Xavier's College, Mumbai; M.S. in Clinical Mental Health Counseling from Syracuse University, NY; Ph.D. in Counselor Education and Supervision from Old Dominion University, VA.
She started her journey, as a teaching assistant at a school for children with special needs, called ADAPT - Able Disable All People Together (formerly known as The Spastic Society of India). Due to a lack of a counseling focus in India, she decided to apply to graduate programs in the United States for higher education. As a counselor, she has served in various roles and settings, including, outpatient, in-home and residential. She also worked with high school students in the Syracuse City School District, and helped in college readiness and preparation.
Dr. Ramrakhiani's research agenda focuses on social justice, advocacy and multicultural issues for minorities on college campuses. She has given voice to international students' needs on campuses in America. She recently conducted an exploratory factor analysis of the experiences and perceptions of campus safety among international students in America. Her research has also focused on examining ways in which counselor educators in our field can incorporate social justice/advocacy in their pedagogical practices. In addition, she has experience with grant writing and has assisted in securing a grant for expanding masters level experiential learning in Integrated Behavioral Health Settings.
Dr. Andrew M. Byrne
Dr. Andrew M. Byrne is an Assistant Professor in the School of Education at Cal Poly, San Luis Obispo where he teaches group counseling, counseling theories, and counseling techniques in the Master's program in Counseling & Guidance in Student Affairs. Dr. Byrne earned Master's degrees in Rehabilitation Counseling and Substance Abuse / Clinical Counseling, and a PhD in Rehabilitation Counseling and Administration from East Carolina University.
Dr. Byrne has been a vocational rehabilitation counselor in North Carolina and Pennsylvania, working mainly with high school and college aged students. Dr. Byrne served as a therapist in adolescent and adult inpatient and intensive outpatient settings. He is a Certified Rehabilitation Counselor, and was licensed as a professional counselor in Ohio. Prior to coming to Cal Poly, Dr. Byrne taught at Ohio University and University of North Carolina School of Medicine. His research focuses on technology, game design, and adventure based learning; and their impact on counseling, career development and higher education among high risk populations.
Dr. Byrne has presented at peer-reviewed national conferences such as National Council on Rehabilitation Education, National Orientation Directors Association, American Counseling Association, Association for Counselor Education and Supervision, and the American College Personnel Association. He has published articles in Rehabilitation Education, Child and Youth Care Forum, Journal of Rehabilitation, Journal of Applied Rehabilitation Counseling, VISTAS Online, and three chapters in The Sage Encyclopedia of Marriage, Family and Couples Counseling.
Related Content